Vacation Bible School 2017: 
Maker Fun Factory!
Sample "End of Night" Gathering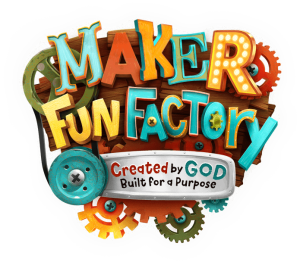 Dates: August 13, 2017 – August 17, 2017
Time: 5:00pm – 8:00pm
Location: 346 W Pine Street, Lake Mills, Wisconsin, 53551 Map It
Early-bird Registration Deadline: July 23, 2017
Registration Deadline: August 13, 2017
Contact Information: (920) 648-2717
Imagine a world where curious kids become hands-on inventors who discover they're lovingly crafted by God. Join us for Maker Fun Factory Vacation Bible School! Register your kids today or sign up to volunteer as a leader or helper.
This year, our Vacation Bible School is all about being built for a purpose in a Maker Fun Factory themed adventure that will leave your children wanting more! Each day, kids participate in small groups, called Sprocket Crews, and invent practical ways to remember we are all created by God and built for a purpose! Not only will they experience exciting Bible adventures but they'll also watch for God in everyday life through something called God Sightings™. You and your kids will discover that God is active in our lives and that His blueprints are everywhere!
At Maker Fun Factory, participants will have a great time doing crafts, learning and considering Bible stories, playing games, munching on tasty treats, and rocking to cool Bible songs that help faith flow into real life. Each day they will practice seeing evidence of God in everyday life!
Vacation Bible School 2017 is scheduled for Sunday, Aug. 13 through Thursday, Aug. 17, 2017.
It is open to all children ages 3 years – 4th grade. 5th graders are invited to register as Volunteer "Small Group (Crew) – Assistant" Registration may be done in advance or at the door. Check in will be held on Sunday at 5:00 pm. A kid-friendly dinner will be offered from Monday-Thursday at 5:00 pm. Programming runs from 5:30 to 8:00 pm.
Early bird registration (until July 13) costs $15 for first child/$10 for each additional sibling. After July 23, regular registration costs $20 for first child/$15 for each additional sibling. Scholarship help is available, please contact the church office if desired.